How to place a Bet Online – The Complete Guide
With the kick-off of the new football season, there's no better moment to place a bet online, especially since we haven't been able to do so for quite a long time: it's been about 6 months since the last games were played. Luckily the process of how to place a bet online is just as much of fun as the last reason and the good news is that things have become just a bit easier.
As there are quite some sportsbooks over there it might just get a bit tricky to place bets online, but luckily we're here to help you start the new season in the best way possible.
Our step-by-step guide will take Betsafe as a general example, as this is one of the bookmakers that offer consistent service and wicked bonuses. Today you'll learn: 
How to place a Bet online
Find a sportsbook.
Claim your bonus.
Find the sport/event you want to bet on.
Check the markets and the odds.
Decide if you want to go with a single, combo, system, or accumulator bet slip.
Place your bet.
How to place a bet – Step by step
At Bet Builder we aim for nothing less than the best sportsbooks for players based in the UK, meaning that we merely recommend sites with an immaculate reputation, that offer outstanding customer support and are entitled to offer their services within the jurisdiction of the UK. For this reason, we highly recommend you to stick with bookmakers that hold a licence by the UK Gambling Commission (UKGC) or even stick to our 2020 favourites: Betsson, Nordic Bet and Betsafe.
1. Find a sportsbook
Apart from criteria like the quality of odds, there are other factors you should consider when it comes to choosing a sportsbook. A large range of payment methods is one of them, while an attractive welcome offer and other recurring promos can also be very convincing. A good betting site should offer odds of a wide range of sports (not only the most popular ones like football and tennis) and leagues from all over the world.
We consider cash out and complete bet builder as indispensable as well, while a proper betting platform offers live streams, pre-match info and in-play game statistics. The availability of responsible gambling tools, 24/7 customer support, a fully mobile optimised app, and other products like virtual sports, also work in a sportsbook's favour. If these are criteria that count for you as well, we recommend you to stick to Betsson, NordicBet, or Betsafe. 
2. Claim your bonus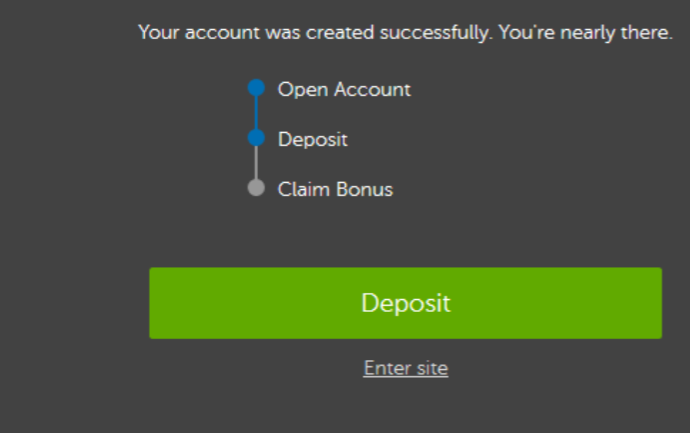 Most sportsbooks offer promotional offers to new players and the good ones out there also value their existing clients. Offers are built to reward punters with cashback, free bets, and top-up bonuses. We, therefore, recommend you to claim your casino bonus yourself as well, because if it's waiting there for you, why not make the most out of it?
Please note though that all offers come with a number of terms and conditions, which need to be followed in order to qualify for the promo. You should therefore make use of promotional offers that pertain to betting markets that you expect to punt on regularly.
We do want to point out that you should not opt into a bonus offer just for the sake of it, as the bonus terms may require you to wager a minimum amount of bets at minimum fixed odds.
You should therefore never place a bet you don't feel comfortable about – just because you want to meet the wagering requirements. Also note that you must be at least 18 years of age to register an account, obtain a promo, and pay out money.
3. Find the sport/event you want to bet online
Place bets online start with heading to the page of the particular sport you wish to bet on. You can do so by clicking the name of the sport from the extensive list and their particular events. At BetBuilder.com we tend to stick to football for our How to Place a Bet Online guides as there are always football games going on and their odds are pretty straightforward.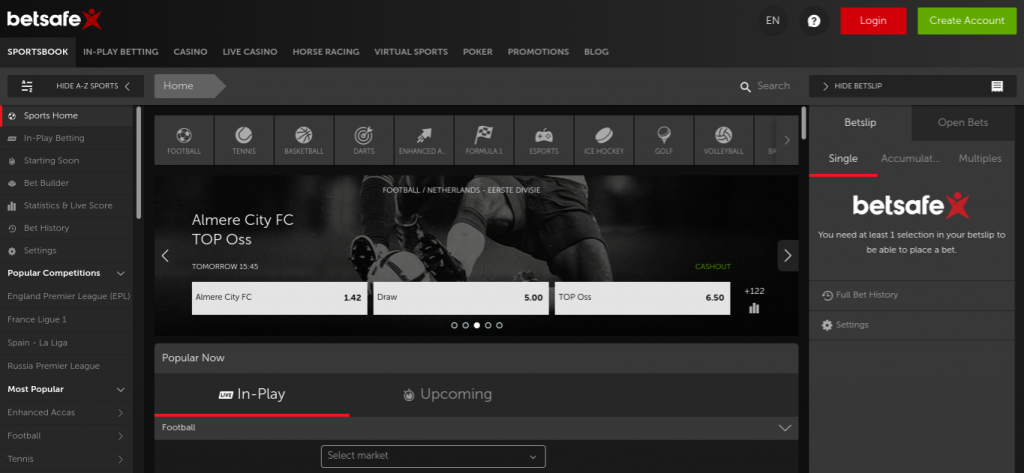 4. Check the markets and the odds
On the sports page, you can find the market you wish to bet on by selecting from the lists of competitions and bet types. While winning big is obviously everybody's main goal, placing small, and sticking to logical bets may be a good strategy to start things off.
One way to approach this is to carefully compare the odds and stick to the events which give you advantages in terms of odds. Once you've found yourself a working idea of how a betting market behaves, you can expand your betting horizon by maybe even raising your bets.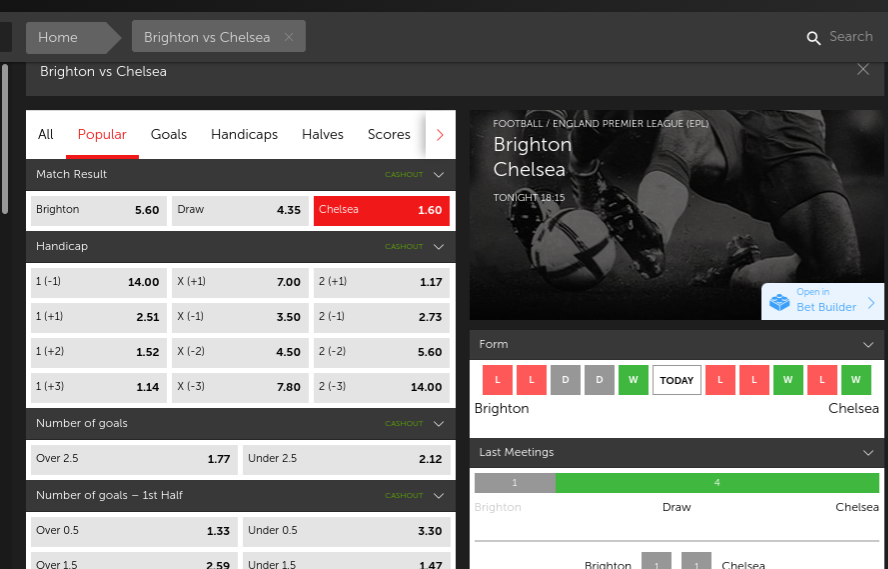 5. Decide if you want to go with a single, combo, system or accumulator bet online slip
Another great way to become familiar with sports betting is to place small stakes on events that you are very certain of, via multiple bets for instance. The probability of you winning all these bets may indeed be a bit smaller than with a small number of separate bets, but if you do win, you could win big. Betting can definitely be a daunting task for beginning punters who may not know where to even begin.
In this case, we cannot urge you enough to always check out the odds and see whether your bonus promo is valid for multiple bets. If you want to add your bet to your own bet slip, all you need to do is to click on the associated odds.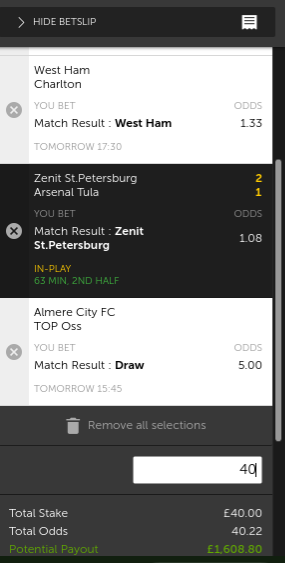 Most sportsbooks offer dedicated pre-match and useful in-play statistics, making it able for you to conduct your own research. By taking into account match results, player/team form guides, home advantage, and the latest news you should be able to do all the research before you place your final bets. Take everything into consideration you think is valuable, but don't overdo it as this might leave you confused. Determine how your teams are going to play the match and try to put yourself in the place of the trainer.
6. Place your bet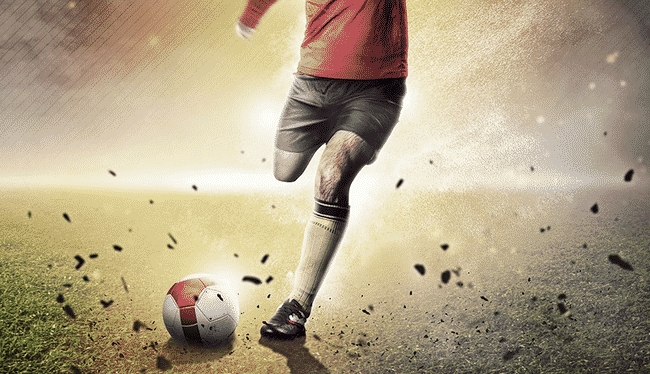 To finally place a bet, confirm your selections made above, double check your stakes and determine whether these stakes fit your bankroll management rules. If so, click on confirm and you're good to go. Next, you will see that your chosen outcome will appear on the bet slip, normally this can be found on the right-hand side of your screen.
The minimum stake that you can place varies among sportsbooks and is generally in between £0.01 and £1. The maximum stake amount actually depends on the sport, market, event, and the number of selections that you have made, so it's pretty difficult for us to give you a compelling answer about this. If you want to add more selections to your bet slip, repeat the above-mentioned process. Please always take into account your risk management.