NordicBet Free Bet – Step by Step Tutorial
Although initially targeting Scandinavian punters, NordicBet has rapidly become one of Europe's leading bookmakers, standing out with both competitive odds and an outstanding sportsbook. The Nordic bookmaker has managed to develop a solid reputation throughout the whole of Europe and we are happy to inform you that they've also got a free bet offer.
Today you will find out everything about the bonus offer by NordicBet. Not only have we reviewed their easy to use sportsbook, with our NordicBet free bet tutorial we will also help you get the very most out of your first bet at NordicBet's sportsbook.
Join and get a £10 Free Bet at NordicBet
Create your account with NordicBet, make your first deposit of £10, make a bet at their sportsbook, and your freebet will be credited automatically and instantly. Easy as that.
How to sign up for your NordicBet free bet
Click on the Claim £10 button below to go to the NordicBet sportsbook.
Click on Create Account and register your details.
Deposit £10 and make your bet.
Below we will cover in detail how to sign up at NordicBet to claim your own £10.
How to claim your free bet at NordicBet?
The bonus of these free bets tops the new list of valid promotions at NordicBet. Joining this popular bookmaker by following the steps below, automatically makes you eligible for a free bet worth £10. To register your account you can use either your computer or mobile phone. We will guide you through the process by using the standard desktop registration as an example, but registering on a mobile device doesn't differ too much from the steps below.
1. Click on Create Account

Or directly sign up for your own free bets by clicking on this button:
In order to read more about NordicBet's sportsbook you can also click on Sportsbook > Read More. This page will also guide you to the registration form you can find next.
2. Fill in your personal information and read the terms & conditions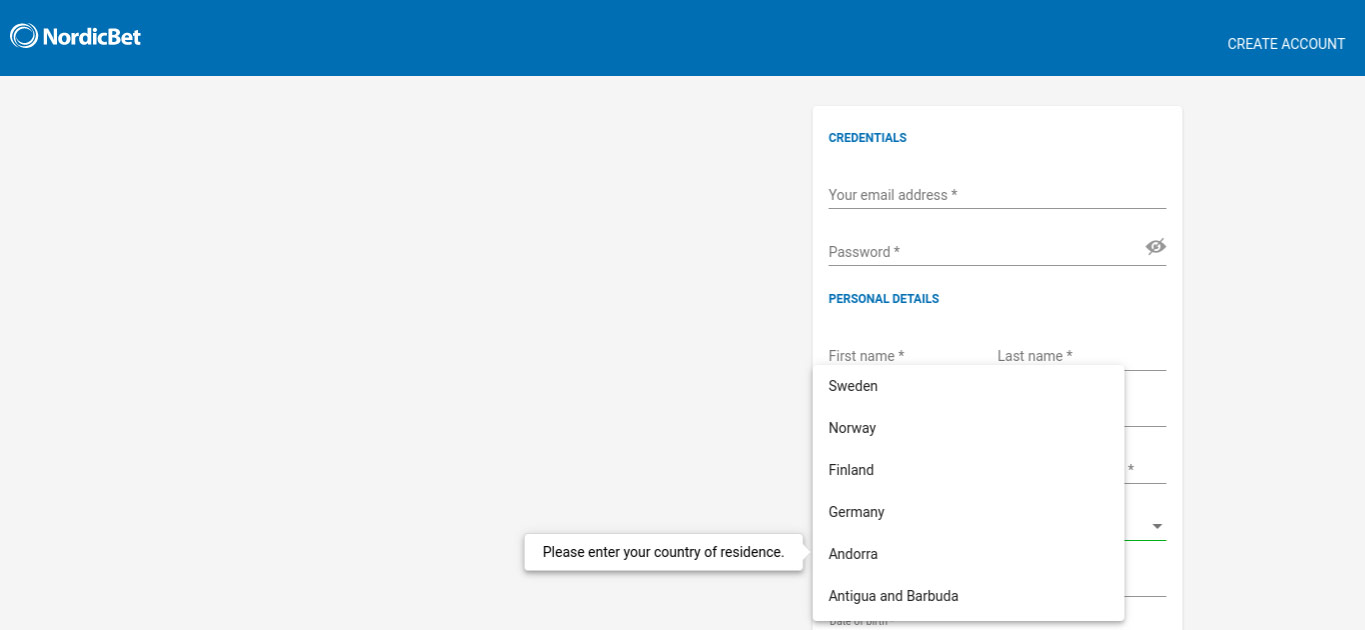 Fill in your personal details, and always remember to check the terms & conditions before registering. After having filled it all the info, complete your registration, and verify your account.
3. Choose your payment method, make your deposit and claim your free bet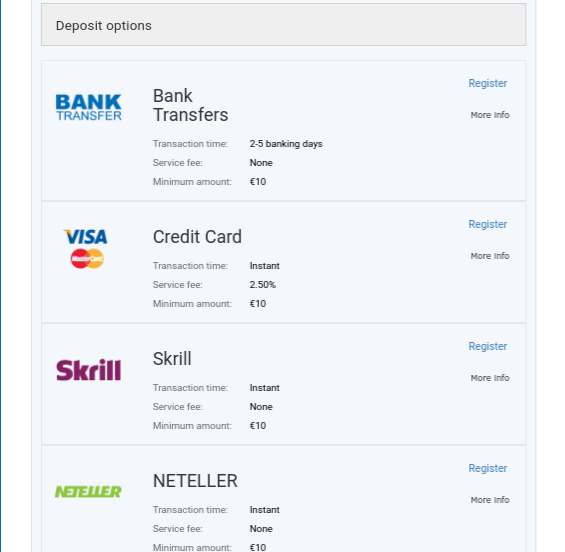 This deposit needs to be at least £10 in order to be entitled to your free bet. Please note that some payment methods may not be available depending on the location you are registering your account. If your preferred deposit method is not available, please pick a different payment method. All payment methods listed on this page are trustworthy and easy to use.
4. Make your bet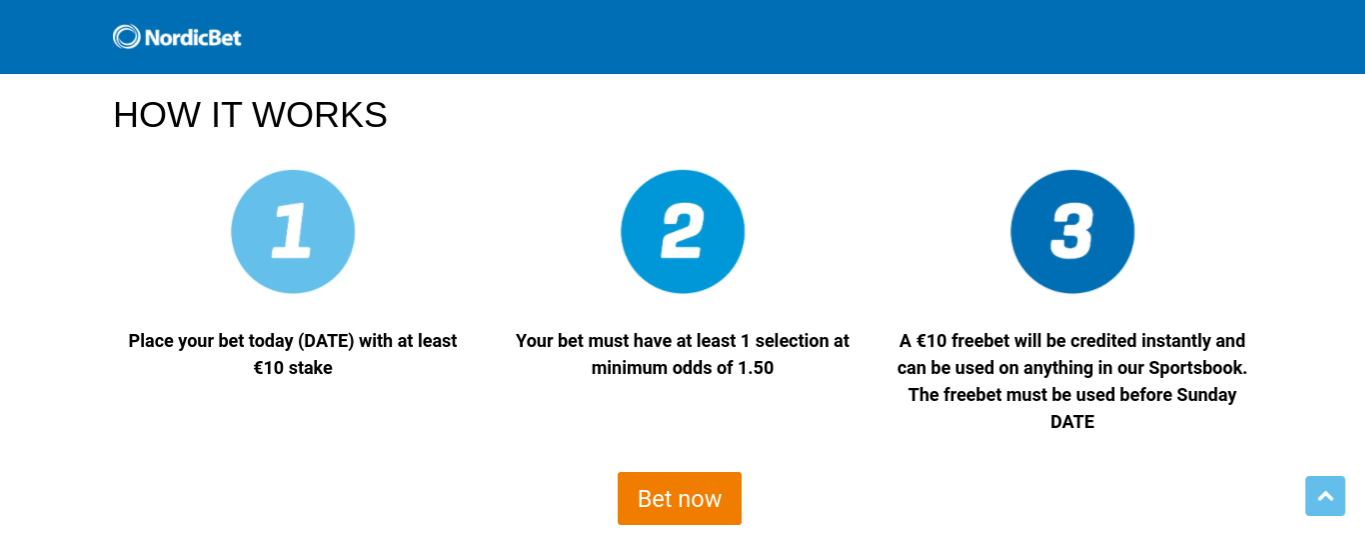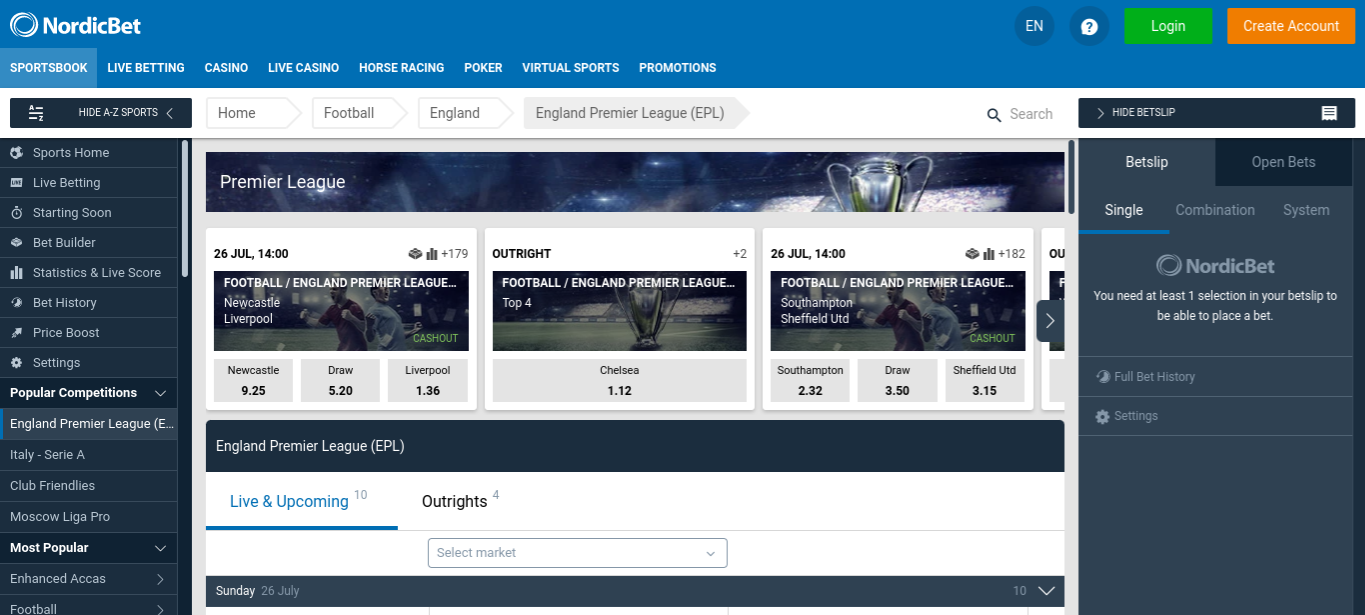 Check out the upcoming sports events and select your preferred market. Your bet will need to be placed at an odd of at least 1.50 in order to claim your free bet.
About NordicBet Free bet
Nordic Bet is no stranger when it comes to excellent online bonuses. NordicBet has been in business for over 10 years now and we have to say: their sportsbook bonuses are very appealing. There is the EUR10 free bet which will make your first bet at NordicBet a very pleasant one. This Nordic Free Bet is a great way for new customers to discover this user-friendly platform. On our website, we will always keep you updated on NordicBet's latest bonuses and promotions. Do note that there are a few bonus terms and conditions. Our team of online betting experts considers these very reasonable:
Terms and conditions for NordicBet free bet
The minimum deposit is £10.
The bonus of This free bet is valid for 7 days after registration.
Any winnings made must be wagered 3x.
Bet must be placed at odds of 1.50 and within a period of 14 days.